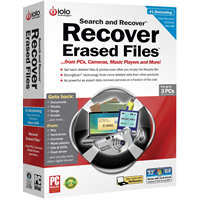 Recycle Bin este un instrument util pentru a evita pierderile accidentale ale unor fisiere, insa nu este perfect. Sunt multe situatii in care ceva ce a fost sters nu mai apare in Recycle Bin sau l-ai sters chiar tu de acolo. Pentru a recupera in mod eficient un fisier sters accidental este nevoie de un utilitar profesional, cum este si Iolo Search and Recover.
Programul costa in mod normal 29.99 lire sterline, dar este oferit GRATUIT printr-o promotie vnudownloads
Search and Recover are optiunea de a realiza o imagine a drive-ului, inghetandu-l in starea de la momentul respectiv si asigurandu-se ca nu se vor mai pierde alte date. Programul poate compresa imaginea pentru a salva spatiul si apoi o va afisa in Explorer ca un drive virtual si o va scana pentru a recupera fisierele pierdute.


Search and Recover este mai inteligent decat competita, recunoscand spre exemplu ca fisiere de genul TemporyJunk.tmp, stocate in folder-ul \Temp, nu te vor interesa. Filtrarea sensibila a rezultatelor reduce afisarea fisierelor inutile si vor fi afisate numai datele importante.


Programul poate scana sectoarele hard disk-ului pentru a recupera partitii periclitate sau alte fisiere ale caror date de indexare au fost pierdute. Are scanare diferentiata pentru poze si filme sau sunete si le poate rula ca un preview inainte de recuperare.
Ofera de asemenea un utilitar de recuperare a mesajelor sterse din Outlook (97 sau mai recent), Outlook Express (5 sau mai recent), Thunderbird (1.5 sau mai recent) si alte programe asemanatoare.
Pentru a-l obtine procedati astfel:
1. Descarcati produsul de mai jos:
https://www.vnudownloads.co.uk/SearchAndRecover.exe


2. Accesati site-ul promotional, completati cu nume, prenume si celelalte date cerute si veti primi prin e-mail cheia pentru activare:
https://www.iolo.com/casr
ATENTIE! Am primit un raport nefavorabil privind utilizarea acestui produs pe Windows 7 x64. Evitati sa-l folositi daca aveti acest sistem de operare.